How It Works?
Enter Currency for Sale

Link Your Bank Card
Transfer Funds & Get Fiat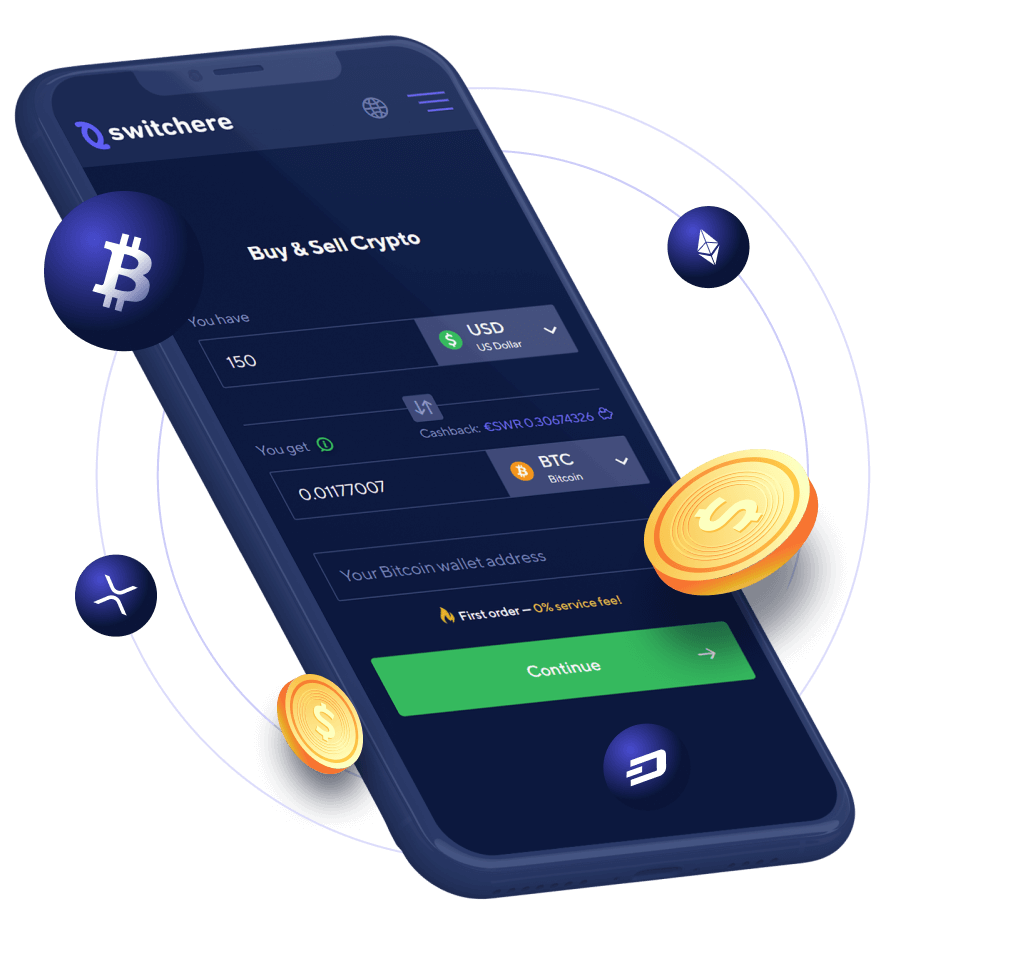 Sell Ethereum Online Here & Now!
To sell ETH online with our platform, all that you need is just your card. From Bitcoin Cash to Litecoin, you can order and sell anything here. We work non-stop, so if there is any problem and you are short on time, feel free to contact us about anything. Find the best to sell Ethereum option with us.
If you would like to know how to sell Ethereum online fast and without paying extra fees, we have got a solution for you. With our online trading platform, you will get access to thousands of opportunities, since the world of cryptocurrency will now be much closer to you. From buying items online to selling crypto, you can now be sure that all of the payments you make are 100% secure. Already interested? Find out more about how you can sell ETH for USD with us and what you will get on this page.
Show More
Get Started
Solid & Trusted Exchange Services
Fast Exchanges & Purchases
Fast Onboarding & Verification
Expert Customer Care 24/7
Ethereum for Sale Online: Best Platform to Buy, Sell or Trade Crypto
Ready to find out about the best way to sell Ethereum? With Switchere, you will not only be able to sell and trade crypto online but will also get multiple benefits and features from choosing our platform. Fast transactions processing. You will get funds right to your wallet in a few minutes when you buy currency online. No need to limit yourself to online shopping and trading due to waiting for the crypto to come! Loyalty program for all clients. If you choose our platform, you can expect from us a small gift: discount on service fee from each purchase. Selling currency online will now be even more profitable for you. Quick registration. To sell Ethereum for USD, all you have to do is just submit your ID and proof of your address. You will be instantly verified on our site.
No hidden charges. Whenever you buy, trade, or sell Ethereum online for USD, you don't have to pay any extra fees. All the transactions are transparent, and to see the amount you will pay or get, just check out the calculator. All popular payment methods are available, except for PayPal. Use your digital wallet, credit, or debit cards to buy and sell cryptocurrency. We want you to be able to use the payment method convenient for you.
Show More
Sell Crypto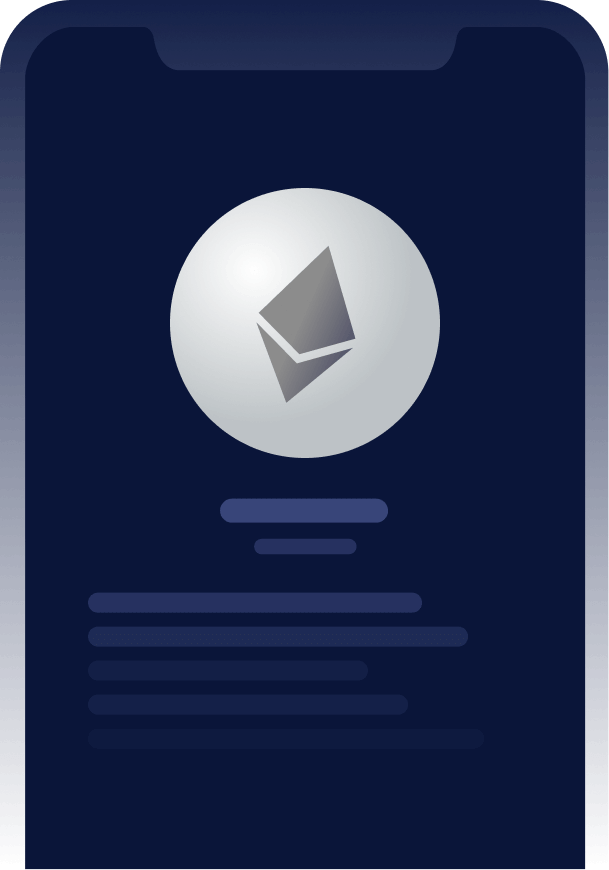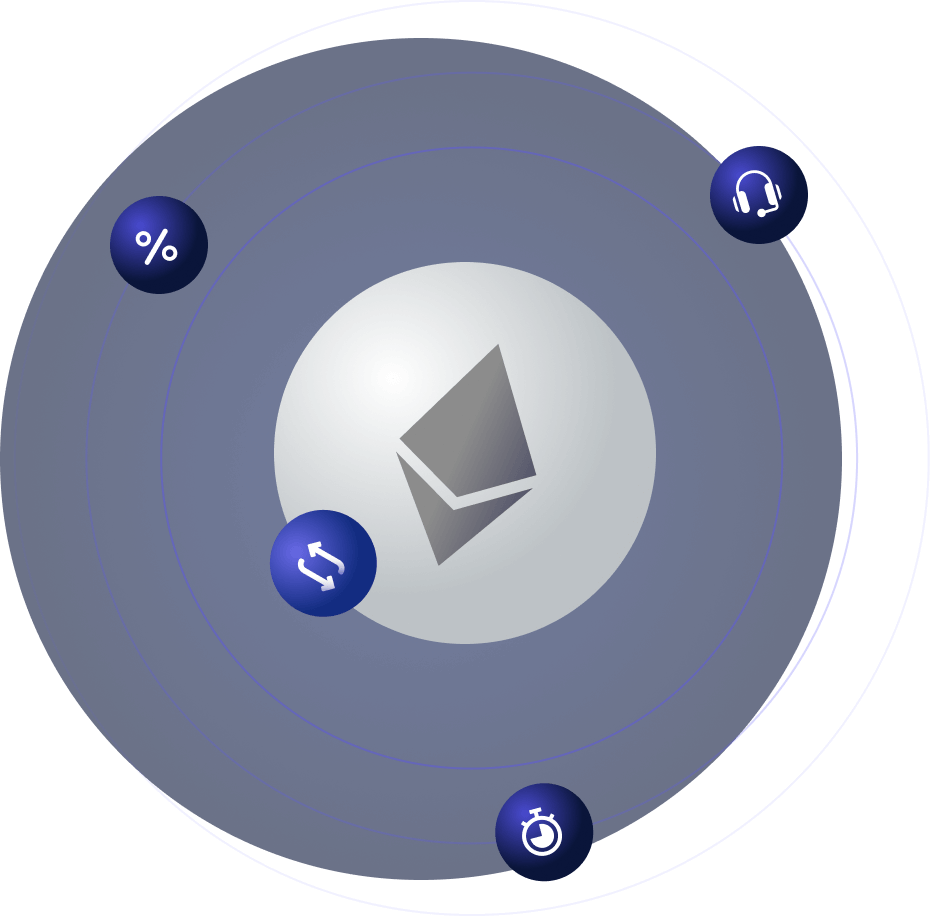 Sell ETH Online without Risks or Extra Fees
When you choose our platform to sell Ethereum online, you don't have to worry about any risks and dangers since our website is secured from all the possible attacks.
Thanks to our partner, Crystal Blockchain Analytics, you can now be sure that all of the funds have a clean history. This means that all the possible risks are eliminated, and you will get your money right to your wallet or card.
Your safety is our number one priority, so you can rely on us when it comes to providing you with the most secured conditions when you sell ETH online.
Show More
Are You Stuck in Making the Right Decision? Switchere Will Help You Out!
Get Started