Einfach zu verfolgender Prozess
Registrieren

Verifiziert werden
Krypto kaufen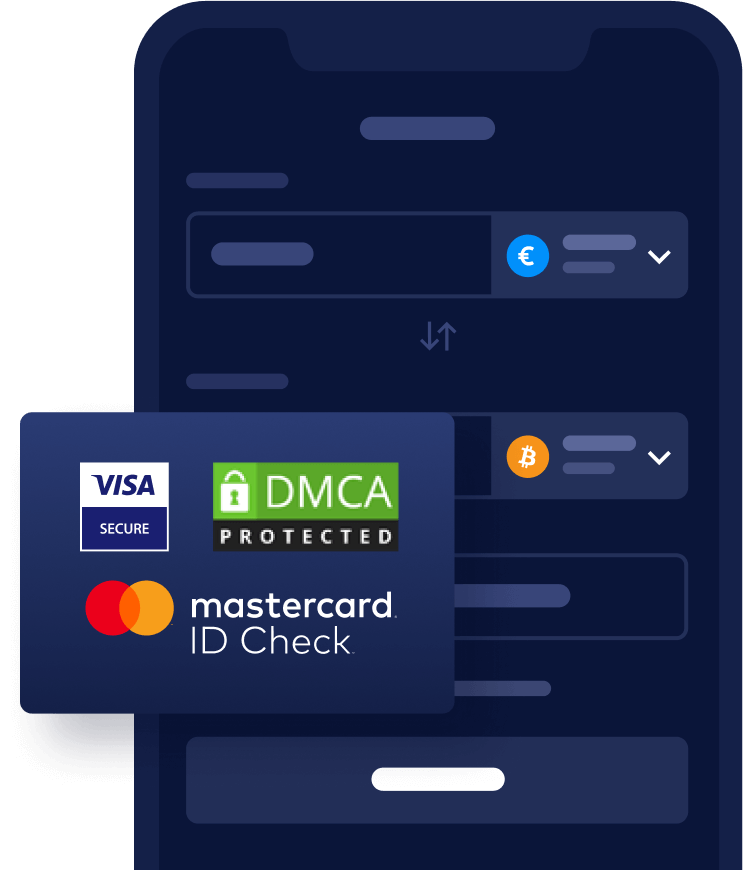 Buy MANA with Debit Card: You Deserve Best Crypto Exchange Service
Only a limited number of online crypto exchanges can boast the full spectrum of exchange capabilities. In case of Switchere, you can buy MANA with credit card, prepaid bank card, buy MANA with debit card as well as use virtual cards (both personalized and non-personalized VISA, Maestro and Mastercard). We are working on enabling PayPal payments and stock, gold, ETF and futures trading in the future. Notably, Switchere.com is truly the safest, fastest cryptocurrency exchange platform with perfect licensing and legal compliance.
One way or another, you can buy MANA with credit card and also buy MANA with debit card using most popular fiat currencies like Euro (EUR) and US dollar (USD). Besides, we accept Asian local fiat currencies like IDR, VND and MYR (all directions, buy and sell respectively). The average order processing time is about 2-5 minutes, and for SEPA bank transfers, the order execution may take up 1-3 days. With Switchere, you can buy MANA with VISA, buy MANA with Mastercard, and there is a wide choice of stablecoins like USDT, USDC, BUSD, DeFi tokens like AVAX, DAI, LINK, UNI and NFTs like CCD.
Mehr Anzeigen
Loslegen
Hauptvorteile
Niedrige Börsenkommission
Keine zusätzlichen Gebühren oder zusätzlichen Zahlungen. Sie bekommen genau das, was Sie erwarten!
Schnelle Auftragsabwicklung
Ihre Krypto wird sicher und sofort in Ihre persönliche Brieftasche geliefert.
Kundenbetreuung 24 / 7
Erstklassiger Kundenservice rund um die Uhr.
Stay Confident Each Time You Buy MANA with Switchere
Start Now
Buy MANA Online: Send, Receive, Store, HODL Crypto Securely
Switchere guarantees instant coin delivery, secure site architecture, good and responsive customer care agents. All eligible customers can buy MANA with credit card using a crypto friendly mobile application powered by Switchere. The app is free for downloading at Google Play and Apple Store. It is compatible with all major OS and has intuitive navigation. It does not cost anything to download and use the app. You can use it as a crypto wallet and manage your cryptocurrency portfolio the way you want — send, receive, store, deposit, buy, sell, swap, HODL, transact cryptos in any direction you like. We, in turn, do our best to make you happy with our pricing and fees.
Now you know the correct answer to the question where to buy MANA with credit card. In fact, you can buy and NFTs with our crypto exchange. How to do it? By partnering with SpaceSeven and Concordium, we have managed to strengthen our positions on the crypto market. The SpaceSeven NFT marketplace offers the purchase and sale of digital NFTs via Concordium's eponymous CCD tokens. CCD tokens can be easily purchased and sold on the Switchere.com website rapidly, securely and with no delays whatsoever.
Mehr Anzeigen
Start Now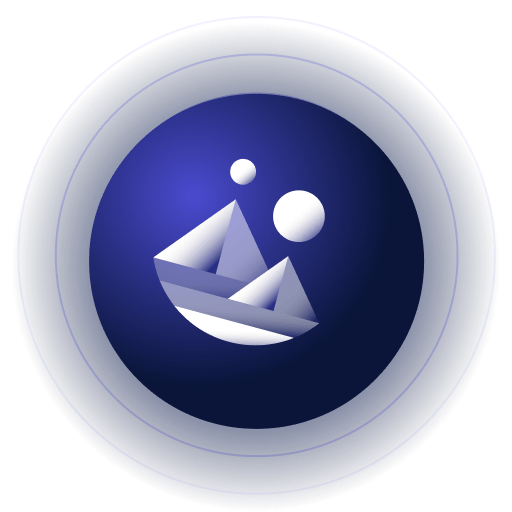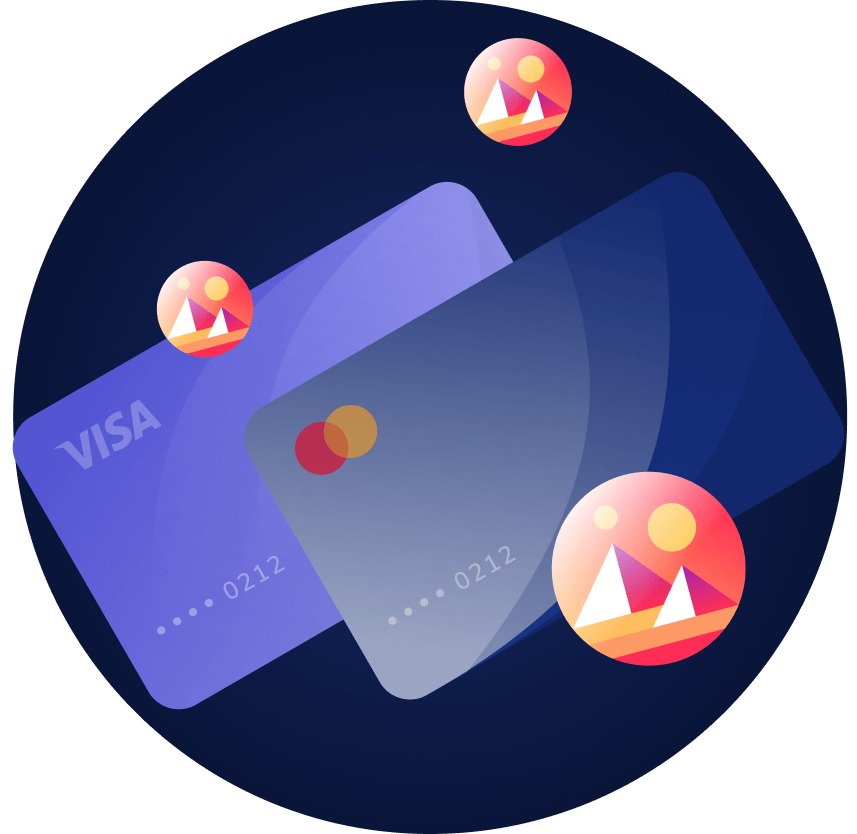 Buy MANA with VISA or Mastercard: Global Access to Crypto
We strive to provide global accessibility to digital assets and do our best to enable multiple fiat currencies in order to let our users use their preferred local payment methods. For instance, SOFORT online banking allows to skip entering bank card details while making an exchange on the website. What is more, users can add bank cards to their withdrawal card list for faster withdrawals.
Your user account can be managed by yourself the way you want. You can set up your default display currency, select the preferred timezone, inactivity logout sessions and so n and so forth. Go crypto and let the digital transformation prevails.
Mehr Anzeigen
Kaufen Sie Decentraland mit Kreditkarte ohne Verifizierung: Es ist so einfach!
Ohne Zweifel ist Switchere.com ein One-Stop-Point für den sofortigen Krypto-Austausch. Hier können Sie Decentraland ohne ID-Verifizierung mit jeder Kredit-, Prepaid- oder Debitkarte von VISA, Mastercard oder Maestro kaufen. Alles, was Sie tun müssen, ist eine schnelle Registrierung (einige Sekunden) durchzuführen und einige grundlegende Informationen anzugeben, anstatt die Standard-ID-Verifizierung durchzuführen. Und das ist alles – kaufen Sie MANA sofort ohne Verifizierung! Wie gefällt dir das?
Die Seite bietet eine Vielzahl von Umtauschrichtungen: Kaufen, Verkaufen, Tauschen, Einzahlen, Speichern, Senden, Empfangen aller Top 10+ Kryptowährungen ohne Probleme. Sie können die integrierte Brieftasche verwenden, um Ihr Decentraland Portfolio zu verwalten und sogar MANA mit Ihrem Kontostand in jede gewünschte Richtung umzutauschen, ohne wertvolle Zeit zu verschwenden. Kaufen Sie Decentraland ohne Verifizierung oder umständliche Bestellabwicklung. Zusätzlich zu den traditionellen Einkäufen mit einer Bankkarte können Sie alternative Zahlungsmethoden nutzen, die über die Website verfügbar sind. Genauer gesagt, können Sie mit SEPA-Banküberweisungen (Single European Payment Area) viel höhere MANA Volumen abwickeln und bei niedrigeren Provisionen sparen. Ebenso können Sie mit SOFORT (by Klarna Group) Online-Banking digitale Assets über Ihr SOFORT-Konto kaufen und verkaufen (dafür sind keine Bankkartendaten erforderlich!).
Mehr Anzeigen